Playstation Network Card 20 USD
---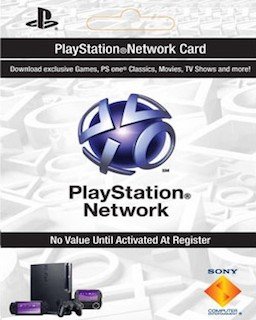 Anglická lokalizace
Produkt je dostupný v angličtině
Zobrazit více
Produkt obsahuje více jazyků včetně angličtiny. Čeština není k dispozici.
Benefit body
Pomocí benefit bodů získáte slevu na další nákupy
Zobrazit více
Benefit body můžete vyměnit za slevu nebo produkt zdarma. 1 benefit bod odpovídá 1Kč.
Doručení ihned
Produkt získáte ihned po přijetí platby.
Zobrazit více
Produkt máme na skladě, po přijetí platby bude tedy okamžitě k dispozici ve vašem profilu. Náš systém funguje automaticky 24/7.
Přímé stažení
Produkt stáhnete přímo ze stránek výrobce
Zobrazit více
Po zadání kódu na stránkách výrobce budete mít k dispozici stažení hry ze stránek výrobce a to bez jakýchkoliv časových nebo jiných omezení není-li uvedeno jinak.
Líbí? +5 benefit bodů

Digitální produkt
Produkt je doručen elektronicky
Zobrazit více
Produkt je doručen elektronicky, nejedná s tedy o krabicovou verzi, ale produkt stahujete z pohodlí domova.
Předplacené karty pro PlayStation®Network vám umožní nabít vaši peněženku a poté ji využít při platbách ve službách PlayStation®Store, SingStore® a PlayStation®Home.

Tyto předplacené poukazy umožní každému vybrat a stáhnout skvělý obsah jako jsou hry, filmy, TV show aj. z on-line nabídky služby PlayStation®Network.

Díky kartám pro PlayStation®Network může každý využít výhod služby PlayStation®Store i bez platební karty. Získá tak přístup k obchodu s on-line hrami a zábavou, který je napěchovaný tisíci skvělých a inovativních titulů. Může to být i skvělý dárek, který umožní pořízení exkluzivních her, nových písní pro SingStar® ze služby SingStore® nebo oblečení, doplňků i apartmá do virtuálního světa PlayStation®Home.

Po aplikaci kódu na US účet Vám bude na Váš PS Network připsáno 20USD.

Jak to funguje? Jednoduše si založíte US účet kde výhodně nakoupíte obsah, stáhnete do svého zařízení a již můžete tento obsah využívat také ze svého účtu. Navíc na US trhu je dostupného více obsahu za lepší ceny.


---
---